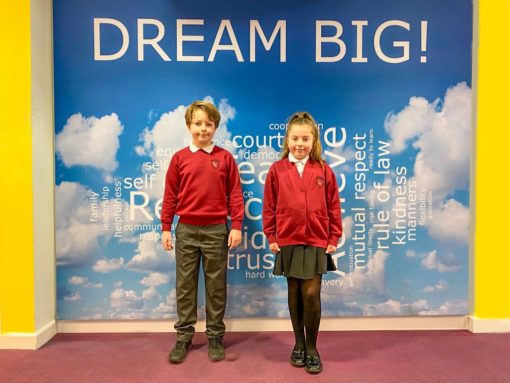 It is expected that every child will wear school uniform. Your help in ensuring our school pupils are smartly and appropriately presented is greatly appreciated.
Children should wear a white shirt/blouse/polo shirt with grey or black trousers/shorts/skirts. During summer months, gingham school dresses may be worn (any colour). Jumpers or cardigans should be maroon in colour. In all cases, clothing should be appropriate for school use.  Jeans and leggings are not appropriate and should not be worn.
To form part of our uniform, we ask that shoes be black or brown in colour. School shoes should be purchased with the demands of school and running around on the playground in mind. Trainers, if worn, must be completely black in colour. White sandals are permitted during summer months, however this is done so at the parents' own risk.
Uniform at a glance
| Uniform | Colour |
| --- | --- |
| Trousers/shorts/skirts | Grey or black |
| Shirts/polo shirts*/blouses | White |
| Round neck sweatshirt* | Maroon |
| Cardigan* | Maroon |
| Summer dresses | Gingham (any colour) |
| Socks | White, grey or black |
| Shoes | Black or brown |
(items marked * are available with an embroidered school logo)
JEWELLERY
Jewellery worn to school should be able to be removed by the child when necessary. For your child's safety, any earrings should be small studs only. The school cannot be held responsible for any items that are lost.
PE Kit
For PE lessons children should wear a house-coloured polo shirt (or plain coloured t-shirt) and black shorts. The colours are Red for Nelson House, Yellow for Southwick House and Blue for Widley House. Football kits are not appropriate (even those in house colours) and should not be worn.
For outdoor activities, during colder weather, additional clothing or tracksuits can be worn.
Footwear for PE should be plimsolls for indoor activities and trainers for outdoor activities.
We have also introduced a 'Team T-Shirt'. This can be worn for after school clubs and if representing the school in any sports/activities. This can be ordered with general school uniform and your child's initials can be embroidered above the school badge.
PE Kit at a glance
PE kit
Colour
Shorts
Plain black
Polo Shirt* (House colours)
Widley – Blue
Southwick – Yellow
Nelson – Red
Footwear:
Plimsolls (indoor PE)
Trainers (outdoor PE)
(items marked * are available with an embroidered school logo)
Purchasing School Uniform
All school uniform can be purchased from Skool Kit, located at the Meridien Centre, Havant, or via their online shop which you can find by clicking this link. Please note that uniform can no longer be purchased directly from Purbrook Junior School.